Point-of-Sales Retail System
Drive retail growth with a flexible, connected solution
We at Magicsoft Asia Systems recommends Vanda users to use Dell™ OptiPlex™ systems or thePioneerTouch Inc CarisTouch if they wish to integrate their Vanda Client to a POS systems. For further inquiries, feel free to contact us.
Vanda Clinical Management Systems offers small and midsize clinics a complete point of sale (POS) solution that can be adapted to meet unique requirements. This powerful software package automates POS processes and store operations, provides centralized control for multiple clinics, and integrates with other popular applications. It is built on a proven Microsoft platform that adapts to meet unique and changing clinical needs.
Set up and use easily
Minimize disruptions with a retail management solution designed for rapid installation and ease of use.
Work with our partners to quickly set up and tailor Vanda to meet your specific retail management needs.
Enable users to learn POS procedures in minutes with an intuitive user interface.
Customize data fields to track information you want to see about customers, inventory, and suppliers.
Keep costs down now and into the future with support for existing computers and OPOS (OLE for POS)-compatible peripherals.
Automate inventory and purchasing management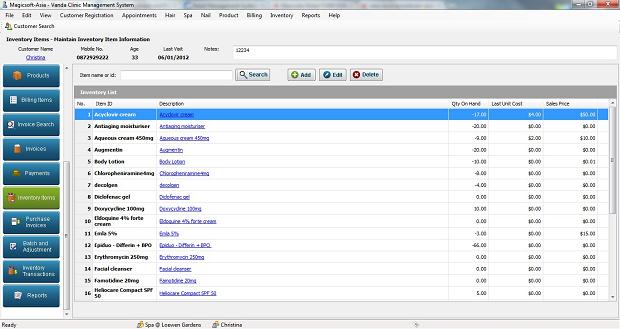 Track and manage inventory using any stock and sales method and inventory types.
Manage complex, multidimensional inventory requirements with easy-to-use matrix forms.
Track item movement and supplier histories, quickly generate purchase orders, and add items on the fly.
Export purchase orders to Microsoft Office Excel and Microsoft Office Word for easy customization and viewing in a matrix grid format.
Streamline transaction processing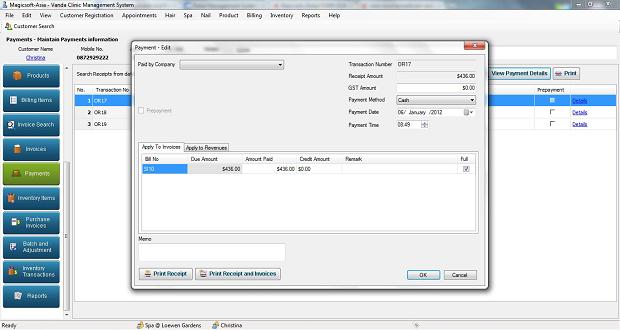 Work with a customizable POS screen that offers immediate access to prices, availability, and stock location. .
Access customer histories at the POS; handle multiple tenders and partial payments at checkout; and quickly create and process returns, back orders, sales quotes, work orders, and layaways.
Expedite checkouts, target customer preferences to offer up-sells and cross-sells, and implement automatic discounts for frequent customers.
Eliminate credit card terminals and dedicated phone lines for card transaction processing.
Help reduce shrinkage, false returns, credit card fraud, and unauthorized discounts with the user access rights features
Improve marketing effort
Target your marketing efforts based on accurate customer data, including preferences and detailed purchase histories.
Easily set up discounts, promotions, and sales to increase customer satisfaction.
Work with flexible pricing structures to offer special pricing to your best customers.
Send targeted mailings with offers, updates and promotions to selected customers.
Display up-sells so that associates can mention them.
Collaborate with suppliers to advertise products, promotions, new items, or upcoming events to customers in line with a secondary net display.
Analyze data with flexible reporting options
Access, analyse, and share current, detailed data across your entire business—including multiple store locations—with a wide range of flexible reports.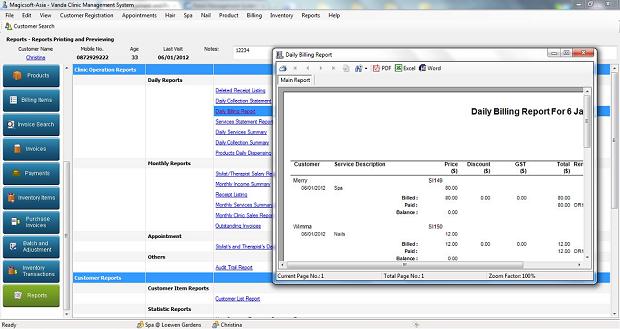 Preview, search, and print daily sales reports and journals by register, batch, and receipt number, as well as close cashier shifts quickly and accurately.
Identify sales trends in every category, evaluate operations and financials, track results from sales and ad campaigns, and set and monitor business policies across clinics.
Export report information directly into Office Excel, XML, Comma Separated Value (CSV) files, or your e-mail application.
Integrate with other solutions
Help eliminate duplicate data entry, connect business information and processes, and protect your existing software investments.
Connect retail and financial management across a multi-store network.
Work with familiar Microsoft Office system applications such as Excel and Word for data analysis and communications.
Use Electronic Data Capture (EDC) and integrate with leading credit card services to reduce fraud and human error.
Manage accounts receivable, then trade summary POS data with popular accounting software such as Intuit QuickBooks (U.S. version).
Work with independent software vendors to enhance existing functionality. You can also add new features, functionality, and applications, including vertical solutions, accounting and enterprise resource planning (ERP) integration, eCommerce solutions, personal digital assistant (PDA) and mobile/wireless stations, and additional integration to EDC and credit card services.
Scale to meet business growth
Work with a scalable, flexible platform that helps you adapt efficiently to mid-market business requirements and drive a lower total cost of ownership (TCO).
Users can deploy and manage Vanda chain-wide, giving them the visibility and control they need to compete in a highly competitive business environment.
Users can help drive more value from their existing investments and keep the same clinical management software and systems as their business grows into multiple stores and retail channels. As they add customers and products to the system, flexible Microsoft SQL Server database technologies can store and manage virtually unlimited amounts of information.
Data generated at clinics across the retail chain can be integrated with merchandising systems, warehouse systems, and other back-office enterprise systems or portals, including Microsoft Office SharePoint Server.
Manage accounts receivable, then trade summary POS data with popular accounting software such as Intuit QuickBooks (U.S. version).
An extensive catalogue of external add-on solutions—including e-commerce, mobility, business intelligence, merchandising, and others—further enhance the investment value of a solution that can be tailored to suit demanding user needs.
Flexibility in Payment
Magicsoft Asia Systems has engaged our Partner to assist businesses make the most of their cash flow by having an option to break the payments up on a schedule that best fits your budget.
Using our financing partner can be your ideal approach in purchasing our solutions for your business and it does not require a whole lump sum payment.
Why many clients choose this option is because:
They have an effortless application process
Flexible installment tenure
One of the best interest rate in town
We are faster than others in approval time
Do contact us today and be paired with an experienced consultant to assist you.