Clinical Decision Support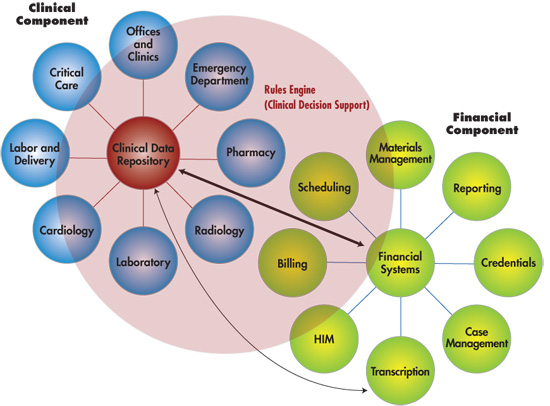 A Clinical Decision Support System (CDSS) is a type of expert system (also commonly referred to as a knowledge-based system) used within a clinical setting to support clinical processes. CDSS are the result of the research of those within both the medical and computer science fields who had wished to develop artificially intelligent (AI) computer systems that would revolutionize healthcare.
CDSS support healthcare workers in performing everyday functions by assisting in tasks that require the manipulation or interpretation of data. CDSS provide evidence based knowledge in the context of patient specific data. The growing popularity of CDSS is due to the growing evidence supporting the claim that they improve patient safety and quality of care by facilitating the practice of evidence-based medicine.
Four key functions of electronic clinical decision support systems are outlined in
Administrative: Supporting clinical coding and documentation, authorization of procedures, and referrals.
Managing clinical complexity and details: Keeping patients on research and chemotherapy protocols; tracking orders, referrals follow-up, and preventive care.
Cost control: Monitoring medication orders; avoiding duplicate or unnecessary tests.
Decision support: Supporting clinical diagnosis and treatment plan processes; and promoting use of best practices, condition-specific guidelines, and population-based management.
Our Partners
Refer to the table below to view our exclusive partners.