Vanda QuickBooks Integration
Vanda Clinical Management Systems offers small and midsize clinics a complete solution that can be adapted to meet unique requirements. We at Magicsoft Asia Systems are able to connect Vanda with Intuit QuickBooks. With Intuit QuickBooks, Vanda has once again proven to be a versatile as it is able to handle your accounting needs.
What is Intuit QuickBooks?
QuickBooks puts your sales, expenses, and customer & vendor profiles at your fingertips. That way you can quickly find what you need when you need it, including money coming in and money going out of your business.
QuickBooks helps you easily track sales, create professional invoices, and receive payments from customers. QuickBooks also tracks your expenses and categorizes them so you can analyze your spending.
QuickBooks organizes your financial records throughout the year, so finding the information you need for tax time is easy. Your tax accountant, if you have one, may also spend less time completing your paperwork.
Why Intuit QuickBooks?
Unlike spreadsheets, QuickBooks is easy for anyone to pick up. The built-in accounting functions of QuickBooks organize and calculate your finances for you. With spreadsheets, you have to program the accounting formulas yourself, which can result in costly errors if you're not careful.
A pen-and-paper approach can take up lots of your time and energy, QuickBooks automates your accounting so you spend less time on everyday tasks. You can also use the search tool to quickly find everything you need.
If you do all your banking online, you can save even more time while working in QuickBooks. Instead of reentering your bank and credit card transactions, download them securely from over 3,000 participating financial institutions and easily import them into QuickBooks.
Vanda – QuickBooks Deployment
The QuickBooks SDK allows Vanda to read and write to Customer's QuickBooks data in the local environment.


Click here to enlarge.
Framework Design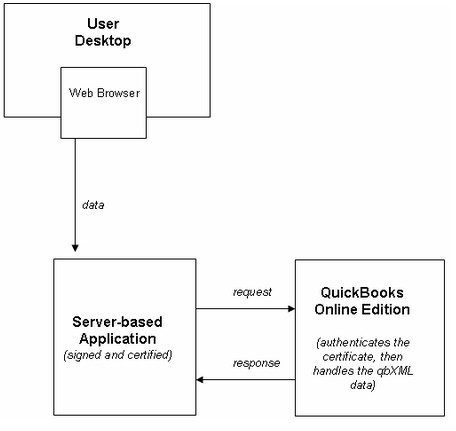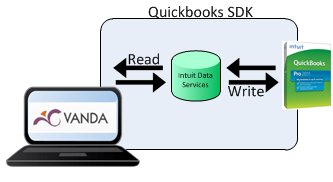 For more information, Visit Intuit QuickBooks or contact us.