Overview Diagram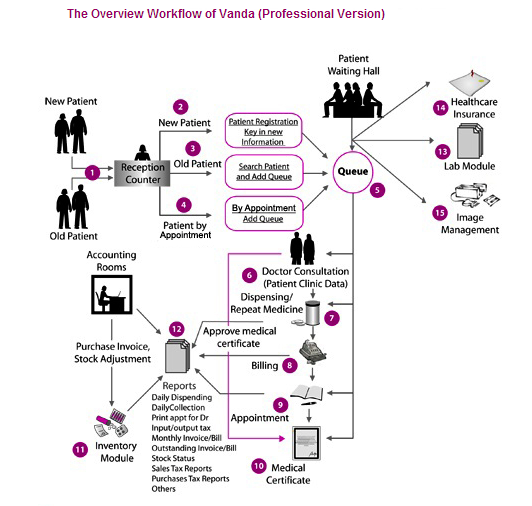 1) Patient come to clinic either walk-in by phone, by referral from doctor or friends.
2) If is a new patient, user will have to register patient in (PR). In PR, user can indicate referral source, like walk-in, or by doctor
3)User can do search on patient in。
4) User can add patient which already inside the appointment list into queue. If it is a new patient in appointment list, system will prompt user to register the new patient first.
5) In , it shows a list of patients who come to clinic on particular day. User will able to select the patient in queue, and click on the module from 6 till 10. Alternatively, user can search the patient, and go to 6 – 10 module.
6) In , after consultation and check up, doctor record diagnosis into "follow up", "clinic data" or "hospital". Doctor prescribe drugs or issue medical certificate if necessary.
7) Nurse will dispense drug base on doctor's prescription after consultation session. The user can click on button to dispense the drug with the same prescription.
8) Cashier will bill patient on the medication or services charges, like consultation and etc. Receipt can be generated based on mode of payment, like Visa, Cash, Cheque, Nets.
9) Patient can make appointment for next visit.
10) Medical certificate is issued to patient base on patient condition, like sick leave, excuse shift and etc.
11) Inventory modules allow user to key in Purchase Invoices for receiving drugs, and do stock adjustment for missing stock or other reasons. The expiry date of drug is monitored in the inventory module.
12) Doctor or account clerk able to generate various reports for sales, collections, outstanding and stock status.
13) After user having a lab test, the result can be key in or scanned into the lab module. The lab module has an OCR module to capture the lab test result automatically, however, it need to be customize base on result format. It provide chart analysis for each element of lab test over a period of time.
14) Patient can claim medical insurance Module. The insurance claim applicable for mat is preset and user only require to fill in little information to auto generate the application form, which can be saved as Ms Excel, Ms Word and PDF format.
15) The Image Management Module is used to scan document and attach them directly to a patient file. This frees up time resources, as staff members do not have to leave their desk to look up insurance card, EOB, driver's license of demographics sheets, among other documents. To aid in diagnoses, you can also store a digital photograph of patient and chart progress.