Motorola MC55 EDA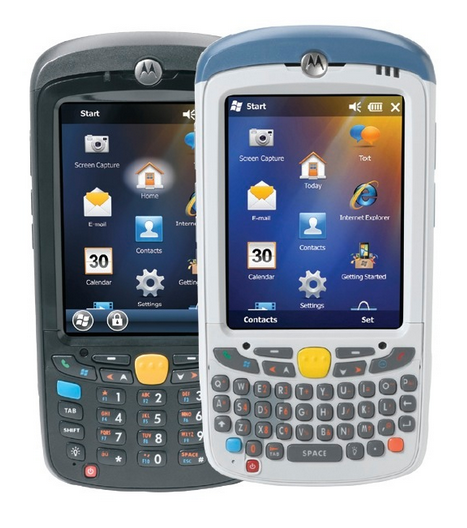 Motorola MC55 Enterprise Digital Assistant (EDA)
---
 True pocket-sized rugged handheld computer with advanced voice and data
 The Motorola MC55 brings a new level of functionality and flexibility to pocket-sized mobile devices. As the smallest and lightest Motorola rugged EDA, the MC55 packs the power of a cell phone, bar code scanner, camera, walkie talkie and mobile computer into a robust business class device with true consumer styling and ergonomics — and is designed to meet mobile worker, business application and IT requirements. This highly flexible product family provides mobile workers both inside the enterprise campus and out in the field with voice and data services needed to streamline tasks, increase productivity as well as improve customer response times — and customer service levels. A broad array of accessories enables easy customization of the MC55 to meet the unique needs of your business applications. And with enterprise durability, manageability, security and scalability, Motorola's MC55 easily meets the most demanding IT policies and mandates.
One family of devices for different workers… and different tasks…in different environments
 This single device is available in primary variants and many configurations to best meet the requirements for a diverse set of mobile workers. Designed for workers inside the four walls, the MC5590 offers wireless LAN (WLAN) and Bluetooth connectivity for modems and printers — ideal for healthcare workers in a hospital, retail managers, retail mobile point of sale and more. The MC5574 is designed for workers outside your four walls — including field service, government and public safety workers.
The MC5574 offers WWAN, WLAN and Bluetooth connectivity that meets the needs of workers who spend time inside the four walls as well as out in the field. In addition, a multitude of configurations for each model allows enterprises to purchase the right feature set for different types of workers instead of all features for all workers, reducing capital expenditures and the overall cost of your mobility solution.
Choose the data capture options you need
 Automate, enrich and error proof data collection in various areas of your business with a full suite of highly advanced data capture options, providing the flexibility to match the right options to the right workers. For workers who only need bar code scanning, choose a 1D laser scanner for environments that utilize only 1D bar codes or a 2D imager to enable the capture of 1D and 2D bar codes. For workers who need to capture images as well as bar codes, a 2 megapixel autofocus high resolution color camera with either a 1D laser scanner or 2D imager allows the easy capture of bar codes and signatures as well as photographs for proof of condition and more.
Maximum voice quality…and functionality
 Designed from the ground up to support voice as well as data, the Motorola MC55 offers a superior voice experience. Functionality includes full duplex voice, push-to-talk (PTT) over the WWAN and WLAN, enabling one-to-one calls as well as walkie-talkie style instant communications. Additionally, Bluetooth headset, handset and speakerphone modes provide workers with the convenience and flexibility to meet the needs of the job…and the moment.
Robust locationing with best-in-class GPS
 Chosen for its superior sensitivity and tracking capabilities, the integrated high performance SiRFstarIII GSC3f/LP chipset enables a multitude of real-time location based applications, from directions for drivers to real-time fleet location for dispatchers. The chipset delivers expanded coverage for GPS applications by enabling the rapid and highly accurate capture of signals in some of the most challenging environments, including urban canyons and areas where foliage is very dense. And the low-power chipset delivers top-notch accuracy with minimal power requirements, conserving battery power to help provide end-users with location-based services.
Easily customize to meet your specific application requirements
 A complete line of accessories enables you to tailor the MC55 to best meet the needs of your applications and your mobile workers. A broad range of keypads ensures easy operation for a wide variety of applications — choose numeric keypads for workers who primarily utilize the MC55 as a smart phone and for very simple data entry, while an array of alphanumeric keypads enables easy entry of more sophisticated data. Magnetic stripe readers provide on the spot split second processing of credit and loyalty cards — ideal in retail as well as field service and sales operations. And IEEE 1725 compliance for the MC55 line of accessories brings a new level of reliability and safety to the entire MC55 system.
Enterprise durability, manageability, security and scalability
 When it comes to meeting enterprise IT criteria, the Motorola MC55 shines. The sleek consumerstyled device delivers true enterprise class durability. Motorola's industry-leading drop and tumble testing combines with IP54 sealing to ensure reliable operation in spite of the inevitable drops, bumps and exposure to the elements. Compatibility with Motorola's Mobility Software Suite provides extraordinary centralized control of all your MC55 devices, offering remote staging, provisioning, monitoring and troubleshooting of devices, the ability to secure data on the devices as well as during transmission and much more. Support for the latest in wireless security standards provides maximum security for your wireless devices as well as your wireless and wired networks. And you can easily add devices as your workforce expands or to mobilize applications in other areas of your business, providing the scalability to meet growing and changing business needs.
Superior return on investment (ROI)
 With a rapid ROI, the MC55 is easy to cost-justify. This single device replaces as many as five business devices, substantially reducing capital and operational expenses — there are simply fewer devices to purchase and manage. Designed for a three to five year lifecycle, the MC55 offers a lifespan two to three times that of the average consumergrade PDA, preserving your hardware as well as associated application investments. The ability to meet the needs of many different types of workers with a single device reduces the load on your IT staff — there are fewer devices and operating systems to understand, manage and support. And Voice over WLAN (VoWLAN) support provides cost-effective voice services inside the enterprise walls and in hot spots.
A platform you can count on today… and tomorrow
 The Motorola MC55 offers the processing power and memory architecture required to deliver superior performance for a wide variety of applications — including voice, data and GPS. Mobilizing your business applications and integration with your existing network infrastructure is easy with the latest industry standard mobile operating system — Microsoft® Windows Mobile® 6.1. And since Motorola mobile computers share a common technology platform, applications developed for other Motorola mobile devices are easily ported to the MC55, improving deployment times and maximizing the return on investment for existing applications.
The Motorola end-to-end advantage
 When you choose the Motorola MC55, you enjoy the advantages of a world-class partner channel, world-class management solutions and world-class services. Our award-winning partner ecosystem offers a best-in-class broad set of ready-to-go and custom applications for the MC55, minimizing deployment time and cost. To help you protect your investment and maintain peak performance, Motorola recommends Service from the Start with Comprehensive Coverage for the MC55. This unique service sets the standard for postdeployment support by including normal wear and tear, as well as coverage for internal and external components damaged through accidental breakage — significantly reducing your unforeseen repair expenses. In addition, this offer also extends coverage to the stylus, screen protector and hand strap that ship together with the MC55 mobile computers for no additional charge, making this service truly "comprehensive".
For more information on how the MC55 can empower your workers with mobility, please contact us.