Motorola MC5574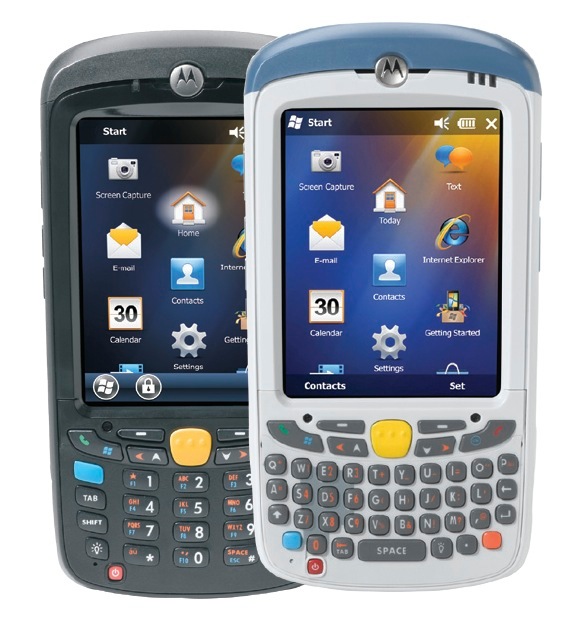 MC5574 (WWAN/WLAN/PAN)
---
The Motorola MC5574 is a pocketable, rugged handheld computer with voice and data capabilities that provides back office, operational data in the field, allowing real-time transactions and improving worker productivity and customer satisfaction.With WWAN/WLAN and Bluetooth connectivity, the MC5574 offers a variety of configurations to ensure the right feature set for every type of worker. Incorporating the functionality of a cell phone, barcode scanner or imager, high-resolution camera and mobile computer, the MC5574 helps increase the return on investment and the overall cost of the mobility solution.
Compatible and Expandable
Motorola's mobility platform architecture enables easier and more cost-effective application porting from other Motorola mobile computers and increases "peace of mind". The MC5590 is IEEE 1725 compliant, including batteries and power-related accessories such as cradles and charging cables. This helps mitigate battery system failure, bringing a new level of reliability, quality and safety to the entire system. A user accessible MicroSD card slot provides optional memory – up to 8G.
High quality meets flexibility
Advanced speakerphones, microphones and transducers offer superior voice quality and performance. And the MC5574 features multiple voice modes to choose from: handset, speakerphone or Bluetooth headset options provide the flexibility to work best in your environment. Multiple Keyboard options include NUMERIC, QWERTY, QWERTZ, AZERTY and NAV PIM, meeting diverse application needs.
Incorporates leading technology
Employing Windows Mobile 6.1, the MC5574 provides increased interoperability with enterprise infrastructure, enhanced security features, a flexible development platform and improved mobile messaging collaboration. WLAN (802.11 b/g) compatibility with flexible VoIP (VoWLAN) enables cost effective voice and data connectivity inside the enterprise, while WPAN Bluetooth offers wireless connectivity to modems, printers and headsets.
Communications for workers on the go
The MC5574 incorporates WWAN voice and data connectivity over cellular network, allowing field workers to always be in touch as well as access your sophisticated data systems. The MC5574 incorporates SiRFstarIII chipset enabling assisted and autonomous GPS support for robust location-based applications. This SUPL 1.0 compliant, high performance, power-efficient can acquire and maintain a signal lock in areas where signals are weak, expanding the coverage area of GPS applications.
Rugged, powerful and efficient
This sleek device is small and lightweight yet rugged enough for use in any environment. The MC5574 features IP54 sealing and survives multiple 4-ft. drops to concrete and tumble stress test. And with the powerful XScale PXA270 @ 520 MHz processor, it provides the power to run your applications in pocketable form-factor. Viewing the 3.5-inch high-definition color QVGA screen helps improve workforce automation, increase productivity and greatly reduce data entry errors.
Keeping workers in touch and productive in the field
With WWAN/WLAN connectivity and an option 2-megapixel auto-focus flash-enabled camera with decode capability coupled with a scanner or imager, the MC5574 helps to increase the effectiveness of mobile workers. They can stay connected to real-time back office systems and capture high quality pictures, documents, signatures and barcodes to run the business-critical applications wherever they are. And with voice connectivity, they are always in touch.