The following diagram displays a typical network setup for Vanda in a clinic environment. As we understand the value of our customers, we at Magicsoft Asia Systems have provided a complete solution for your IT infrastructure needs. Our complete solution covers the option of having back up and also the option of getting the server storage bundle from us.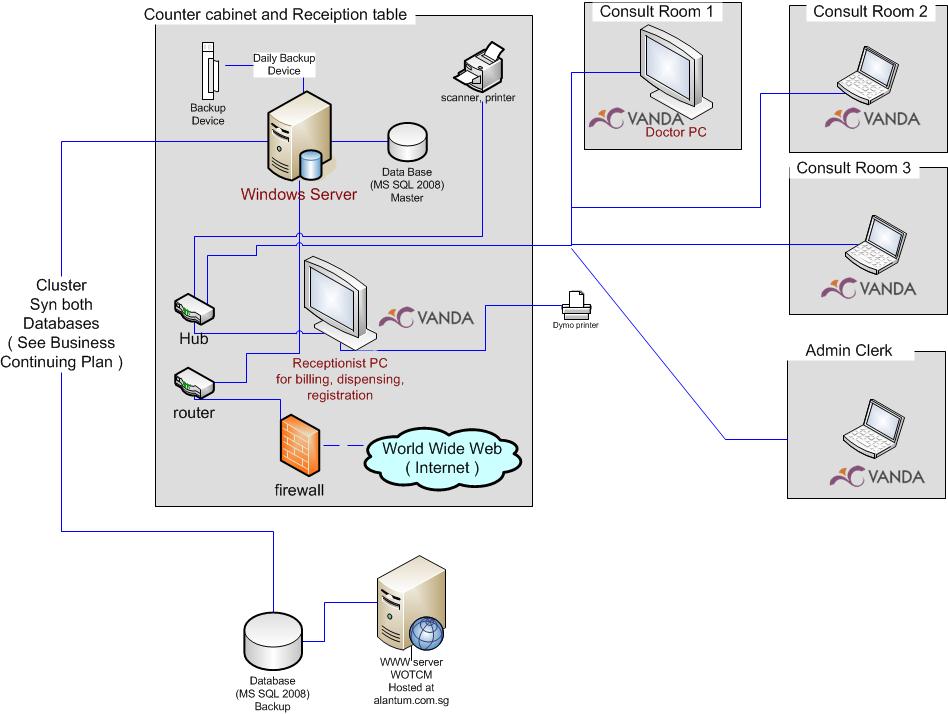 Storage Servers
A file server, database server or video server could also be classified as a storage server if it is dedicated to storage and retrieval and performs no other functions. Storage servers often come in RAID configurations for performance and fault tolerance.
Why IBM System Storage?
In this era of Smarter Computing, the amount of information that most organizations deal with on a daily basis has exploded—as much as doubling every 18 to 24 months. At the same time, Bigdata projects can quickly double or triple this amount of information. And information is becoming more valuable, with the ability to analyze it counting as a competitive advantage. To stay ahead, organizations need faster access to more data. Another trend, cloud computing, will be adopted or deployed by up to 90 percent of organizations within the next three years, saving US businesses an estimated $625 billion over five years. This growth and transformation is happening at a time when IT budgets are flat. Inflexible infrastructures and increasing complexity can create significant obstacles for organizations trying to take advantage of these tremendous opportunities.
These growing demands require a new approach to storage — a more intelligent, more efficient, more automated approach that fundamentally changes the way we think about it. Introducing IBM Smarter Storage, a new strategy for storage design and deployment. IBM Smarter Storage enables organizations to take control of their data, so they can focus on gaining more valuable insights from this information and delivering more value to the business. IBM Smarter Storage solutions are:
Efficient by design. Efficiency features are designed into IBM storage systems from the beginning. Advanced features are pre-installed, ready to deploy and operate consistently. Storage efficiency technologies, like real-time data compression, can significantly reduce the amount of data that has to be stored because they support all data, including active primary data.
Self-optimizing. Self-optimizing storage operates at the speed of business—much faster and more accurately than manual performance tuning. Self-optimizing storage can increase throughput for critical applications while reducing the cost of storing less active data. 
Cloud agile. Cloud agile storage has virtualization built in. Virtualization increases agility by enabling online data migration and simplified storage provisioning. Cloud-agile storage enables immediate self-service and automates most manual storage administration tasks, improving the ability to manage larger, more unpredictable workloads.
The storage leadership and ongoing product innovation of IBM supports organizations in significantly improving storage efficiency and information access with solutions that are easy to use and powerful enough to control massive storage growth.